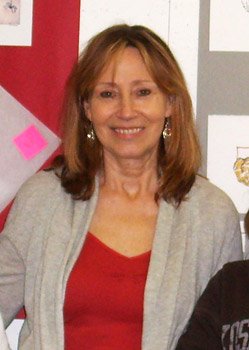 Working in pen and ink, colored pencil, watercolor and pastels, artist Ann Thomas is known for her detailed images used in children's books, greeting cards and other print media. Ann is also widely recognized for her fine architectural style renderings of homes and landmark buildings.  She free lances out of her home studio in Milwaukee, Wisconsin, conducts workshops around Wisconsin and has taught as a part time instructor in the Graphic Design Department of Mount Mary University in Milwaukee. Ann can be contacted at annsart@sbcglobal.net
Ann recently completed an online teaching video entitled Drawing Children for Picture Books, through Craftsy.com.  Among the children's book titles Ann has illustrated are The Cheshire Cat Moon by author, BJ Ermenc , the beautiful Christmas gift book entitled What Can I Give Jesus  by author Cheryl Kirking, which has been a recipient of the 2007 Moonbeam Award receiving a silver medal in the holiday category, and the silver 2008 Ben Franklin Book Award. (http://www.cherylkirking.com) and the short story Snow written by author George Harris in The Colorful Patchwork, a collection of short stories for children.
I graduated from college with a degree in Graphic Design, but it wasn't until years later that I truly pursued my love of illustration. A friend had given me a very fine black sketching pen; once I put the first mark on the paper I was hooked! While my children were taking naps, I would steal an hour or so sketching at my drawing table.
Since those early days I have also grown to love colored pencil, watercolor, pastels and acrylics. I enjoy catching the fine detail on a venerable old building in pen and ink as much as laying down thick creamy colors in pastel; creating silly laughing planets in brilliant watercolor or a child's soft expression on a Christmas card in colored pencil.
I have also come to enjoy sharing these skills with my students whether in a college setting or a weekend workshop. I love seeing their faces light up as they explore the medium and are surprised at their own undiscovered abilities.